Quick cooking ready in 30 minutes without soaking
Legumes are simple vegetal  proteins;  a worth  animal-protein-alternative, necessary in a balanced diet.
The good flavouring,  and the authenticity of PASTA WITH BEANS  (Pasta e Fagioli), brings us closer to  ancient tastes,  brings back to mind the good childhood, and family memories,  and makes  you appreciate the authenticity  of the  genuine  things
Strong deterrent to eating beans, is, sometimes, the poor digestibility, and the intestinal heaviness problems, like swelling  (first of all),  that the consumption of beans  can bring.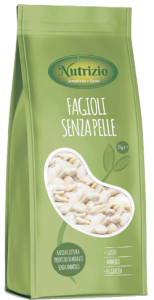 This is why recently, consumers have turned more and more, to eating decorticated  lentils, chick-peas, and peas. 
Being decorticated, these pulses are deprived of the recovering  peel, and become easily digestible.
Further, the cooking time is much shorter.
Normally, dry beans need minimun 12 hours  of soaking,  and about 2 hours of cooking  (slightly different procedures from one type of beans to another)
With research going on from many years,  we have been trying to find,  a decortication  steam system, evenly removing  the outer skin from the beans, leaving the beans entire, and without affecting their healthy contribution
So,  we created, improved, and patented, a steam decortication system, allowing us to get peeled beans, that  need neither soaking, nor long cooking times.
Infact, they are ready in maximum 30 minutes
From a nutritional  point of view,  the outer skin removal  doesn't cause loss or reduction of the healthy  benefits supply.  Infact, it impacts, and reduces the fibers content.   Therefore,  a certain amount (in weight) of decorticated beans gives more proteic content than  the same quantity of whole dry beans
The absense of the peel makes the hulled beans fit for the consumption even from those with gastro-intestinal problems;  and they are  recommended as  a main  source of vegetal proteins in  weaning,  and early childhood, as well as in slimming diets, 
being low in calories.
Our peeled beans, really the unique,  help consumers to try something new, innovative, special, tasty, genuine, and  easy-to-cook
You can try  them with pasta, rice, vegetables, and…
.. eat healthy everyday
+ taste
– flavour
= lightness